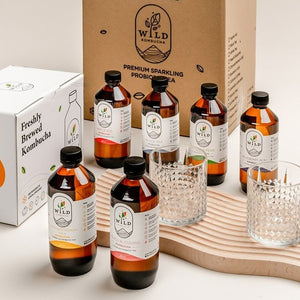 Keen for kombucha? Splatter partners up with our favourite kombucha artisans Wild Kombucha, to bring you this selection of fresh & fruity sparkling probiotic drinks!
What is kombucha?
Kombucha are cold, fizzy probiotic drinks produced by the fermentation of tea, sugar and water. Kombucha offers multiple health benefits starting with good gut health, which is central in boosting your immunity, mood, metabolism, and even energy. 
Why do we love Wild Kombucha? 

Because Wild Kombucha make these health elixirs locally with all-natural, real ingredients! It's low in sugar with a variety of delicious, delicious flavors to suit any preference. Best of all, it's an alcohol-free drink pairing to go with with cheeses. 
Choose from their bestselling flavours here: 
🍹Sencha Pear
Soothing, grassy notes of Japanese green sencha tea combined with the natural sweetness of whole pears that are high in antioxidants. Floral, fruity & balanced. 
🍹Pandan Lemongrass
Citrusy lemongrass combined with vanilla-like aroma and sweetness of pandan leaves makes for a detoxifying soother on the heart, body and mind. A taste of Malaysia! 

🍹Strawberry Watermelon
This plump and juicy fruit duo makes for an all-natural, guilt-free sweet treat. Balanced with fresh lemon juice, it's a fruity combination the whole family will enjoy.

🍹Blueberry Acai
A delightful medley of bright black tea, hibiscus flowers, fresh blueberries and açaí berries to leave you revitalized and energized. Perfect blend of fruity and tart.

🍹White Tea
The OG of Wild Kombucha! Refresh your palate with this pure, unflavored kombucha brewed solely with white tea leaves. Lively and clean, with a mild and mellow zing. 
And yes, pairing booch with cheeses is totally a thing. Give it a try today and fall in love with these zesty, effervescent booch by Wild Kombucha.

Looking for alcoholic beverages? Check out our curated list of white wines, red wines & sparkling wines!