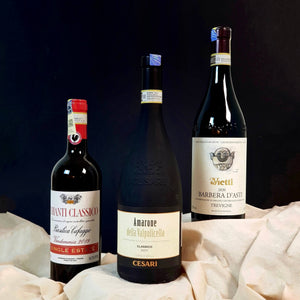 You want it, you got it!
Splatter now offers a series of excellent red wines to complement your grazing platters. We've curated some of the best Italian DOCG wines to pair with artisanal cheeses.

DOCG stands for Denominazione di Origine Controllata e Garantita - a classification awarded to the best of Italian wines. These wines are produced with the strictest winemaking, taste and quality standards. There are only 74 DOCG wines in Italy! 
🍷Vietti Barbera d'Asti DOCG Tre Vigne 2020

Italian Barbera wines are generally fruity, light on the palate with a crisp acidity that accompanies its deep ruby red colour. If you're looking for a highly rated dry red wine with soft tannins, Vietti's Barbera d'Asti offers a great experience at an affordable price. 
Aroma: Blackcurrant, dark cherry & violet
On The Palate: Notes of black fruits and strawberry accented by mineral & vanilla. Supple, well-balanced with good complexity. 
Cheese Pairing: Aged cheeses & blue cheeses

🍷Cafaggio VR Chianti Classico DOCG Single Estate 2019
Chianti is the quintessential Italian wine, most commonly enjoyed with meals in Italy.
It's generally tart, fruity, a little spicy - Cafaggio's Chianti Classico is no different. Made only with red Sangiovese grapes from the Tuscany's sunny slopes, this easy-going red is dry, medium-bodied and so versatile for pairings. 
Aroma: Fresh berries, floral, touch of spice
Taste: Notes of ripe blackberry, cherry, raspberry & licorice. Clean & harmonious. Integrated tannins with a lingering finish of fruit and mineral accents. 
Cheese Pairing: Hard cheeses, especially Italian

🍷Cesari Amarone della Valpolicella DOCG Classico 2017
From Cesari's Italian hillside vineyards come this iconic Amarone red wine that's a class of its own. Made from semi-dried grapes in a long process, Amarone wines are full-bodied, rich, and flavourful with high alcohol content (15%). 
This wine is awarded 4.2 out of 5 stars from Vivino's 20,000+ reviews!
Aroma: Cherry, fruit jam, vanilla & cardamon
Taste: Notes of black cherry, chocolate & brown sugar. Balanced & harmonious. Velvety mouthfeel. Persistent finish that lingers.
Cheese Pairing: Hard cheeses & blue cheeses

Not sure which pairs best with your favorite cheeses? Click here for a great guide for beginners or just drop us a line here to chat with our friendly team.
We also offers other beverages like white wines, sparkling wines & kombucha!