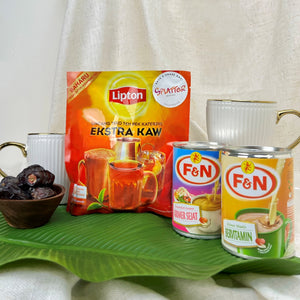 During the holy month of Ramadan, break fast with your loved ones with sweet, creamy teh tarik served with your favourite iftar dishes!
The sweetness and creaminess of teh tarik gives you that boost of energy after a long day of fasting, and soothes empty stomachs with its frothy warmth. It's truly an iconic Malaysian drink to connect with your favourite people and celebrate the end of the day's fast together.
Pair any of Splatter's offerings with this Lipton Teh Tarik Kit that serves the natural goodness of the finest hand-plucked tea leaves in a deliciously frothy, velvety, aromatic cuppa. 
The kit comes with a generous pack of professional-grade Extra Kaw Lipton teapot bags alongside tins of evaporated & sweetened creamer by F&N.
The combination of Lipton's premium black tea's bold flavour, creamy sweetness, and frothy texture make it a truly delicious and satisfying drink to quench thirsts this Ramadan!
Best paired with Riang Raya Kuih Platter & Raya Delight Dessert Platter.