Bestselling grazing platters
EVENTS & CORPORATE GIFTS
Gourmet Grazing Tables
This creative catering style features a scrumptious spread of gourmet cheeses, charcuterie, fruits, desserts, and more. 
read more
Corporate Gift Boxes
You will love these fully-customisable, miniature versions of our gourmet platters for bulk gifting and/or corporate orders. 
READ MORE
Gourmet Ingredients
Only the finest, freshest ingredients are handpicked for your enjoyment. Nothing we wouldn't eat ourselves – that's a promise! We support local artisans, bakers, and farmers as much possible. You'll love the hidden gems we've discovered ❤
GRAZING PLATTERS
Variety of Flavours
When you not-so-secretly want a bite of EVERYTHING. We know how that feels! There's no need to choose, Splatter's curated gourmet platters & sensational grazing tables let you have it all. Enjoy a variety of texture and flavour in every bite!
GRAZING TABLES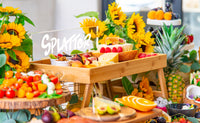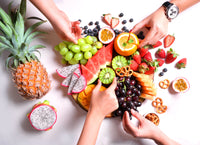 Share & Bond
The best moments in life are often in the company of others. We want you to talk, laugh, share, and connect with loved ones as you enjoy our grazing platters together, wherever you are! Perfect for intimate parties, reunions, celebrations and more.
talk to us here
Customer feedback
It's a perfect in a box! Good combination of sweet & salty, everything was fresh and with such a huge variety, everyone is sure to find something they love inside! Doesn't hurt that it's super pretty too!

Estee
The best birthday surprise since I love fruits. And orang yang buat platter ni really know their fruits, what goes well and the best combination for it.

Ayaq
...one of the most passionate and genuine people that I had ever work with. They are attentive to your needs. The grazing table they set are like edible art masterpiece. Their food is as good as they look!

Jolin
What a great idea for birthday cake replacement. Lagi sedap, semua orang suka. Lepas ni semua birthday kita tak celebrate with cake anymore. Its nicely arranged, and cut ready to be eaten. I really enjoy it!

Faikha
I've been giving it as gifts ever since they first started and its always wonderful to see the joy from the recipients faces. Big box, quality fruits and amazing feeling delivered in a package!

Hani
A fruit platter as a birthday surprise, gift, and buah tangan is just brilliant! Everybody (no matter what age) enjoy fruits and we definitely do not have to worry about having leftovers. 

Farah