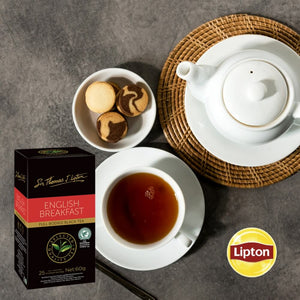 Sir Thomas Lipton's English Breakfast tea is a premium black tea from the world's most renowned tea regions. This particular blend of full-bodied black tea brings together flavours of Kenyan, Ceylon and other black teas for a robust, bold cuppa.
We highly recommend enjoying it with a dash of milk!
Did you know that English breakfast tea contain flavonoids, an antioxidant that - with regular consumption - contributes to a healthier heart (think reduced risk of coronary heart disease & lower cholesterol)? 
Sir Thomas Lipton's English Breakfast tea is also a 100 percentage Rainforest Alliance Certified Tea. This signifies that it is produced by farmers, foresters, and/or companies working together to create a world where people and nature thrive in harmony.
Each box comes with 25 pieces of fold-wrapped envelope tea bags.