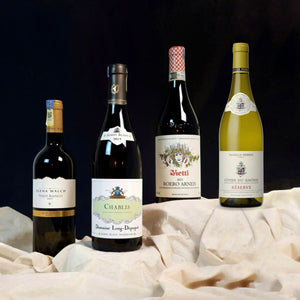 Looking for white wines to pair with your favourite cheese grazing platters? Splatter is here to fulfill your demands with this curated collection of delicious white wines.
🍷Elena Walch Pinot Bianco Alto Adige DOC 2019
Elena Walch's medium-bodied Pinot Bianco from Northern Italy is characterised by ts bright straw yellow, fresh liveliness and clear aromatic expression. This winning DOC (Designation of Controlled Origin) wine among top 5% of all wines in the world.
Aroma: Apples, white flowers & touch of herbs
On The Palate: Notes of pear, white stone fruit, citrus & almonds. Creamy palate with mineral depth, lively acidity and a fresh finish. Elegant.
Cheese Pairing: Mild, soft cheeses 

🍷Albert Bichot Chablis Domaine Long Depaquit 2019
French Chablis wines are made of 100% Chardonnay grapes. These wines are not named after the celebrated grape variety, due to the region of Chablis in Burgundy its grown in. These grapes have its distinctive character to make elegant wines like Albert Bichot's Chablis Domaine Long Depaquit 2019 . Deliciously fruity, crisp and balanced.
Aroma: Citrus, white flowers & flint
On The Palate: Citrus, pear & almonds with a touch of minerality & salinity. Fruity, crisp and balanced. Dry with light-body. 
Cheese Pairing: Soft, creamy cheeses like Brie

🍷Vietti Roero Arneis DOCG 2021
Roero Arneis are DOCG Italian white wines made with the ancient Arneis variety grapes. The Vietti family winery is known as the "Father of Arneis", transforming these finicky wine grapes into one of Piedmont's greatest white wines. Vietti Roero Arneis DOCG 2021 is a semi-dry, medium-bodied wine - versatile & fresh like sunshine in a bottle!
Aroma: Melon, citrus, flowers & hints of herbs.
On The Palate: Notes of ripe pears, apricots, lemon & almonds. Bright & well-balanced. Crisp acidity & minerality. Good complexity. 
Cheese Pairing: Mature, hard cheeses & fresh, creamy cheeses

🍷Famille Perrin 'Reserve' Cotes du Rhone White 2021
Cotes du Rhone white wines from France's Southern Rhone Valley are full-bodied wines, fresh and dry with a tangy, floral profile. Famille Perrin is the leading organic and biodynamic grape grower in this region, producing beautifully fresh, balanced wines.
Aroma: White flowers, apricot & buttercream
On The Palate: Notes of peach, honey, almonds & minerals. Fresh, balanced acidity. Round & supple. Mineral finish with delicate bitterness. 
Cheese Pairing: Most cheeses, especially French cheeses

Not sure which pairs best with your favorite cheeses? Click here for a great guide for beginners or just drop us a line here to chat with our friendly team.
We also offers other beverages like red wines, sparkling wines & kombucha!